Leef Luuj!
Van herte welkôm op ôs website.
D'n herfs haet zich aangekôndig en det beteikent det de äöpening van 't vastelaoves seizoen in zich kump. D'n 11e van d'n 11e wuuërt in 't stedje mit 11 kenon scheut de vastelaovend ingeluujd. Aevel in Düsseldorf, wao weej daen daag vertoeve, kruup d'n Hoppeditz oét de môsterdpot en äöpent hae op ludieke wiés de vastelaovend.
Alzoë, raeje genôg um oét te kiéke nao d'n 11e november, wao weej mit vuuël joeks en meziék 't vastelaovend seizoen äöpene.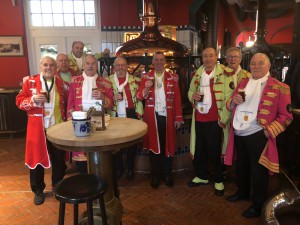 Geej kint op dees website ein stökske historie van ôs truuk vinde, mit daobeej waat foto's oét de alde doës. Vanzelfspraekend auk ôzze agenda wao geej kint zeen waat weej allemaol oétvraete mit Sjiengeleboem
Weej winse ôg vuuël plezeer op ôs website en waallich zeen we ôs heej of dao, dan kleppe we d'r same eine!
Ziet geej as laezer muzikant, en heb geej belangstelling um deil oét te make van de kepèl, kôm eine kiër kiéke op dinsdaag aovend as we in Ut Tref rippetaere. We zien op zeuk naor eine bariton / tuba, bas of schuuf.

Mit muzikale groet,
mei names Joekskepèl Sjiengeleboem,

Fer                                                                                                                     Haufsponsor